CIJ
Highest quality continuous ink jet (CIJ) printers manufactured in Germany by Inkdustry
CodeCenter
The modular concept of the CodeCenter offers unlimited possibilities. Peripheral devices like robots, camera, axes can be controlled by the central unit and be synchronized with the coding process, according to your wishes and requirements. The CodeCenter is the ideal solution for complex and difficult applications.
The CodeCUBE is a newly designed dye based continuous ink jet printer. It brings you the latest technology in a product designed and built from extensive industry experience. The Windows CE based operating system and touch screen allow the printer to be connected into a networked environment, as well as a serial USB port for memory expansion and other peripherals. Some of the exciting features of the CodeCUBE include:
Powerful Remote Diagnostic capabilities
Intuitive User Interface
Large Touch-Display
WYSIWYG Text/Graphics Editor
Easy integration of Windows components
By adding a Webcam to the CodeCUBE, your printout can be viewed directly on the terminal, or remotely via ethernet.
Key Benefits
Standards: The standard system includes an integrated solvent recovery unit, automatic phasing and viscosity control, which are state of the art in the industrial continuous inkjet world.
Innovation:  The user interface terminal is running under the Windows XP-Embedded operating system, offering the potential to integrate Windows software modules and peripherals directly into the system, thus extending the standalone printing system into a complete solution for special applications.
Maintenance: The refillable reservoirs are easily accessible through a hinged panel at the top of the housing. Cleaning of the print head can be done even when ink stream is switched on. For maintenance purposes the hood can be removed, giving direct access to all components of the CodeCUBE.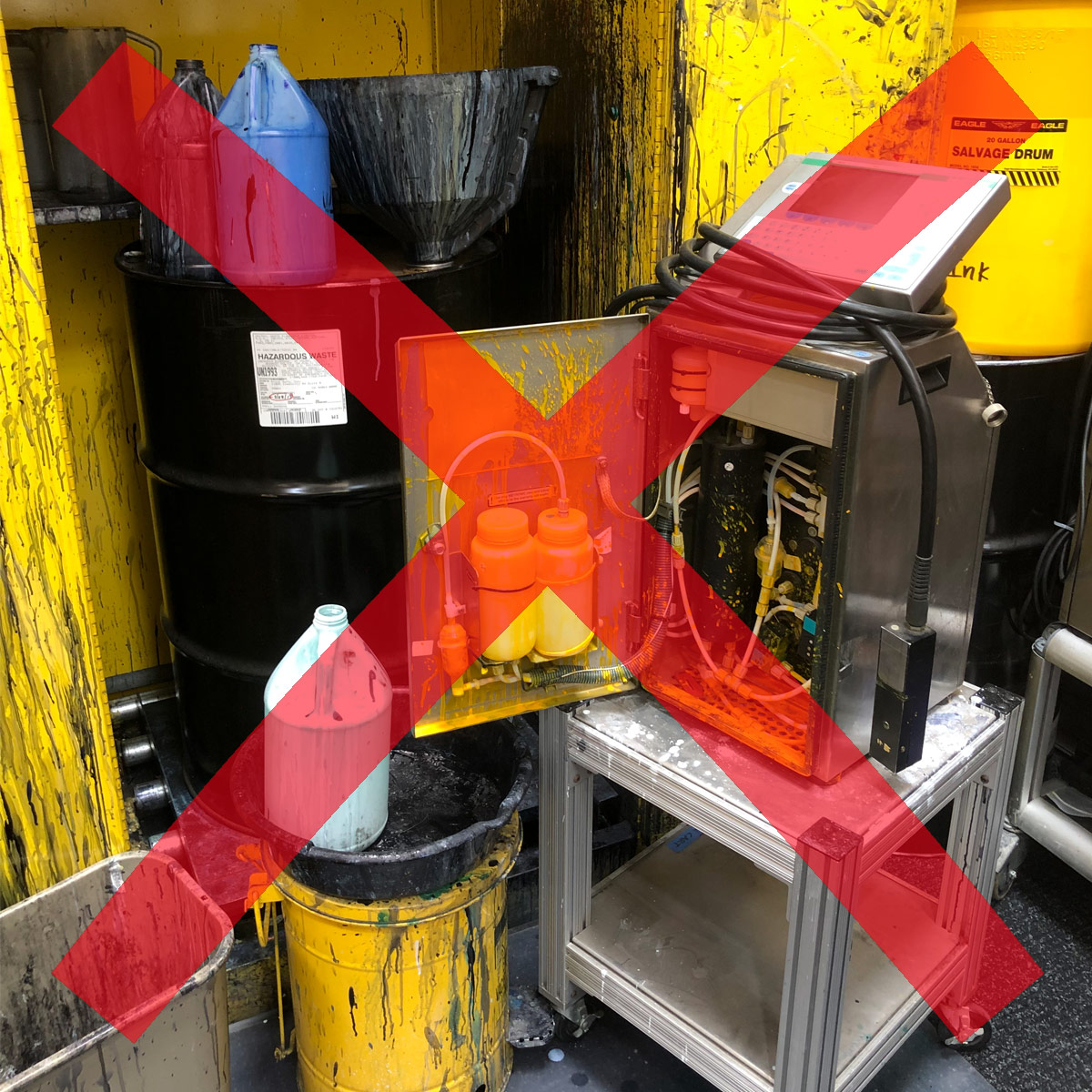 Do you have a waste mess like this?
Contact Us. We are the Haz Waste Busters!